We have been developing our offer for 25 years, implementing the requirements of our customers
Modeco Expert is 25 years of knowledge and experience, gained primarily in practice.
The Modeco Expert brand is also excellent knowledge of the market, conditions and needs, transformed into innovative solutions. It is reliability, reliability and high quality that facilitates the work of thousands of users every day. It's Modeco Expert – tools designed not only for specialists. Our portfolio consists of 8 product categories, dedicated to various segments of construction works and fully covering every activity that can be performed on the construction site.
We have been developing our offer for over 25 years to meet the expectations of our customers. We are distinguished by many years of experience and knowledge that makes you satisfied with the use of our products. Every day we are looking for new solutions that will make our brand your preferred choice. The quality of our power tools and hand tools guarantees listening to the needs of our customers and adapting the product to the end user.
Solutions for demanding customers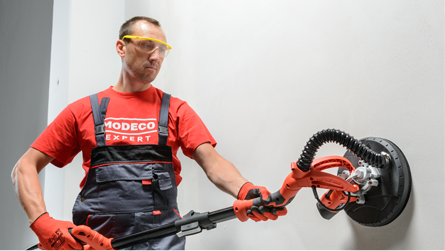 Modeco Expert is a dynamically developing brand of hand tools and power tools.
The offer consists of carefully selected tools produced in Europe and the Far East. Expert are basic hand tools, such as screwdrivers or pliers, but also top-quality construction, mechanical and measuring tools as well as OHS accessories. Modeco Expert power tools are characterized by care for user convenience, ergonomics, durability and ingenuity in the selection of functions.
Modeco Expert tools and power tools are equipment targeted at craftsmen and demanding DIY enthusiasts. These are tools for every expert, both at home and in a craft factory providing all kinds of services. The distinguishing features of the Modeco Expert brand are the wide range, high quality, durability and ergonomics. Many years of experience of the team building the offer guarantees knowledge of customer expectations.