Novelty! Exposure system on clip strips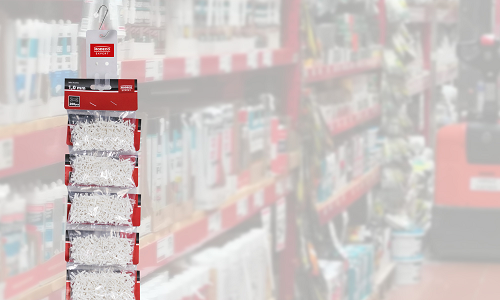 Modeco Expert presents the latest, convenient and aesthetic sales system – Clip strip.
To meet the expectations of our clients, we present a complete display system – a clip strip with already suspended products and a hook attached to the set. The system gives the possibility to hang 15 products on 1 clip strip in 1 second.
The system is made of high quality plastic, which guarantees high strength and dimensional accuracy. Suspending products on a vertical bar allows you to display them using the vertical, unused space of the store – Dead space.
Pendants for pouches are arranged on the strip so that the products do not cover each other and are perfectly exposed, which makes it easier for the customer to choose. The design of the display and the metal hook allow you to hang the clip strip in a way that does not cover other products on the rack.
A practical, convenient and aesthetic sales system includes:
15 bags for 1 clip strip
6 types of content: 5 sizes of crosses for glaze + wedges in one collective packaging
Hook for hanging
Indexes included in the system:
MN-76-000 / C · MN-76-001 / C · MN-76-002 / C · MN-76-003 / C
MN-76-011 / C · MN-76-016 / C · MN-76-017 / C