Diamond hole saws – easy and quick drilling in the hardest materials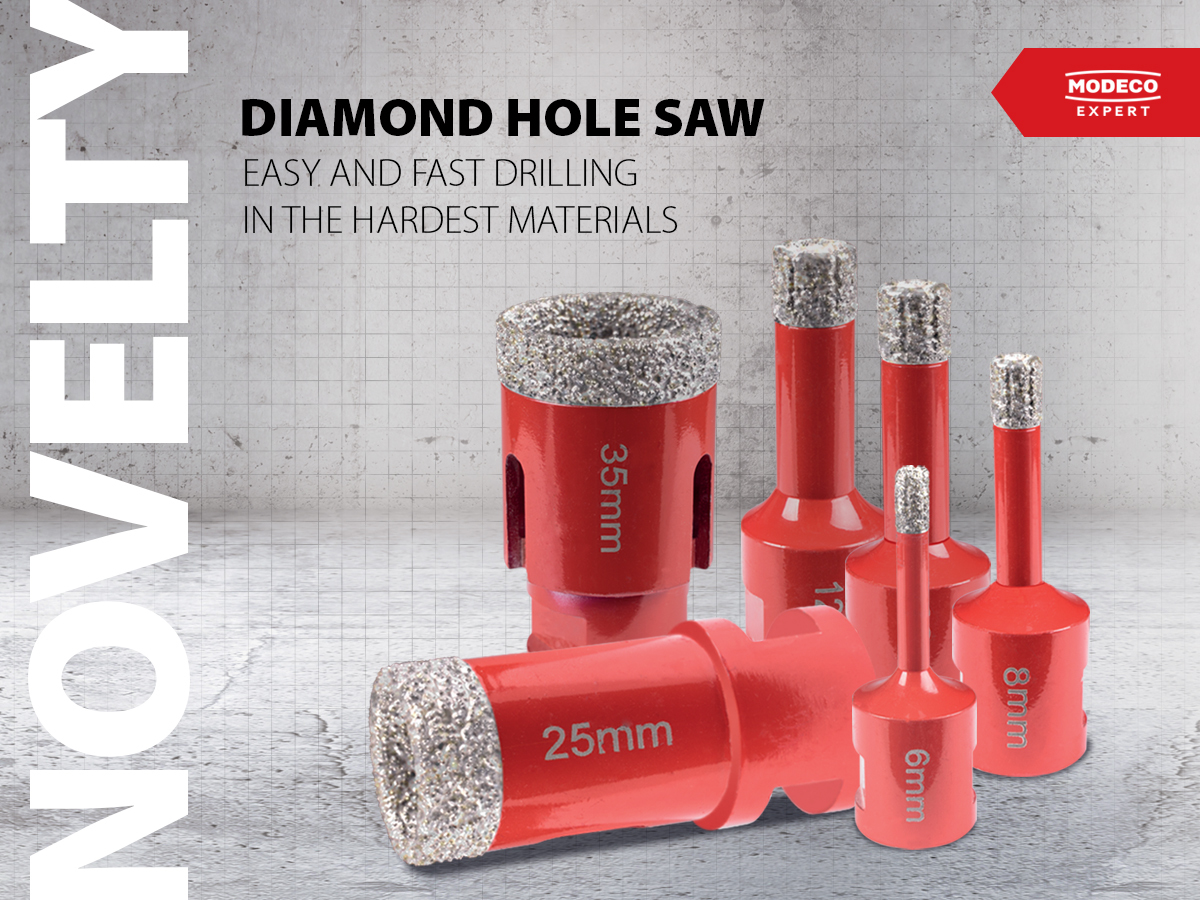 Most finishing materials such as ceramics, stoneware, terracotta, marble and granite used during tiling work require the use of reliable tools for drilling holes. Therefore, Modeco Expert, understanding the customers' needs and the specificity of the substrate, expanded its offer with new diamond hole saws. The holesaws made in the VACCUM BRAZED technology enable dry drilling without the use of water even at very high speeds. An additional advantage is the wide range of diameters available – 6, 8, 10, 12, 25 and 38 mm, as well as 2 types of holders – HEX and M14 thread.
Discover the features and benefits of Modeco Expert diamond hole saws:
DURABILITY, DURABILITY AND HIGH QUALITY: thanks to the use of Vacuum Brazed technology, i.e. vacuum soldering, in which synthetic diamonds are connected to the body using brass-based solder.
DRY DRILLING – thanks to wax placed inside the holesaw, which during drilling melts and cools the working part of the diamonds.
VERSATILITY OF USE thanks to the use of two types of tool holders, the hole saws fit many power tools. Hex handle allows you to work with cordless drills, drills and hammer drills (without impact). In contrast, the M14 thread fits angle grinders.
PRECISION POINT DRILLING thanks to which the hole has smooth edges without cracks and breaks.
HIGH DRILLING PERFORMANCE even in very hard materials, thanks to the durable and clean connection of diamonds with the tool body in a vacuum that increases resistance to high temperatures and friction.
MAX 12,000 RPM allows use with most power tools.
BODY MADE OF DURABLE STEEL does not crack when drilling even with small diameters and guarantees a long service life.
GUIDE WITH SUCTION CUP enables drilling without the need for a pilot drill and prevents the drill from slipping on the material.
INFORMATION ON AVAILABLE PRODUCTS
DIAMOND HOLE SAWS
INDEX
HANDLE
Ø DIAMETER [MM]
LENGTH [MM]
MAX. RPM
COOLING METHOD
DIAMOND COATING HIGH [MM]
QUANTITY INNER BOX[PCS]

QUANTITY OUTER BOX[PCS]
MN-76-206

M14

6
65

12000

WAX

10

10
100
MN-76-208
8
65
10
100
MN-76-210
10
65
10
100
MN-76-212
12
65
10
100
MN-76-225
25
60
HOLES IN THE BODY
10
100
MN-75-235
35
60
5
50
MN-76-306

HEX

6
70

3200

WAX

20
200
MN-76-308
8
80
20
200
MN-76-310
10
80
20
200
MN-76-312
12
80
20
200
MN-76-298
4-75
5
50