25cm SILVER anodised spirit level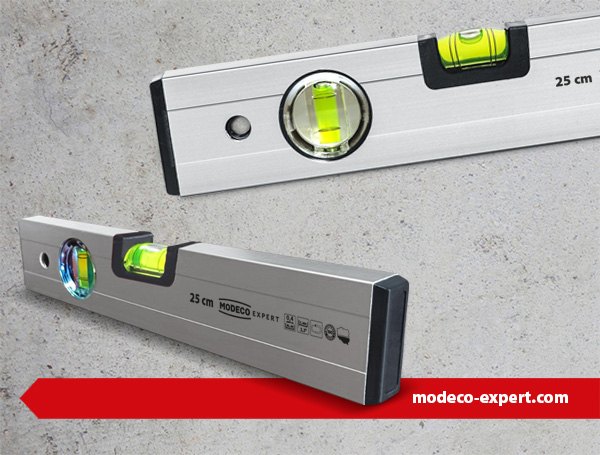 Measuring accuracy down to 0.4 mm/m, excellent value for money, Polish manufacture, workmanship repeatability and utmost precision guaranteed – all of them are the distinguishing features of the new 25cm SILVER spirit level from MODECO EXPERT.
Anodising is a procedure which consists in depositing a film of oxide on a surface of metal, e.g. aluminium, to increase its durability, corrosion resistance, and mechanical strength. It produces an abrasion-resistant coat that protects the new MODECO EXPERT spirit level.
Any other advantages?
Two vials for vertical and horizontal indication.
Spirit level vials free from sharp edges, made of high-quality acrylic glass which can be cleaned of dirt easily and quickly while working.
Additional graduation of the horizontal level vial to determine a slope of 2.3%, which greatly facilitates installation and finishing work.
UV-resistant and non-fading vial-filling spirit with a stable bubble which never splits, even upon impact or fall.
DUAL PROTECT vial double-protected against breaking.
Magnet enabling the level to be fixed to metal elements.
100-year warranty for the vial mounting and setting.
Product site: Anodized spirit level 25 cm