Abrasive sponges for smoothing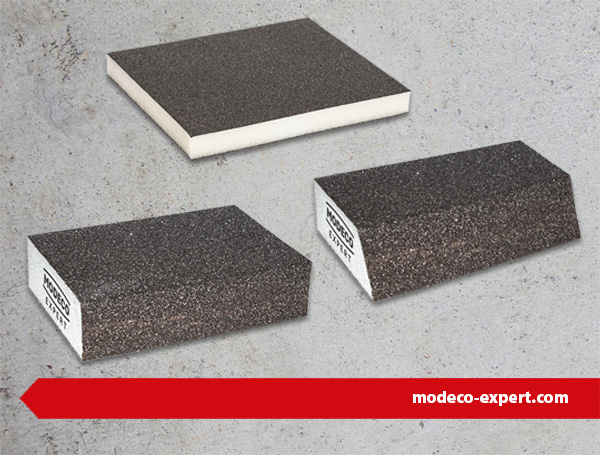 Excellent abrasive sponges for smoothing and sanding of diverse surfaces are the latest MODECO EXPERT product intended for various finishing applications.
The abrasive sponges prove particularly useful in smoothing and sanding of a wide range of materials, including filler, gypsum putty, wood, paint, metal, and plastics. This makes them indispensable for diverse repair and finishing professionals: tile setters, house painters, plasterers, joiners, spray painters, and even mechanics or installers.
Made of flexible foam, the sponges come as handy cubes of different shapes matching specific jobs, which makes them suitable for work even in inaccessible places. The range of the sponges spans diversified granulation, from P40 to P200, allowing users to obtain precisely the intended material working degree.
Our selection of sponges comprises three variants: simple (100 x 75 x 25 mm), bevelled (100 x 70/50 x 25 mm), and thin (120 x 100 x 12 mm).
Product pages:
Abrasive sponges (www)
MN-73-040 · MN-73-041 · MN-73-042 · MN-73-043 · MN-73-044 · MN-73-045 · MN-73-046 · MN-73-047
Bevelled abrasive sponges (www)
MN-73-050 · MN-73-051 · MN-73-052 · MN-73-053 · MN-73-054 · MN-73-055
Thin abrasive sponges (www)
MN-73-060 · MN-73-061 · MN-73-062 · MN-73-063 · MN-73-064 · MN-73-065 · MN-73-066 · MN-73-067