"T" type multi-ratchet scerwdriver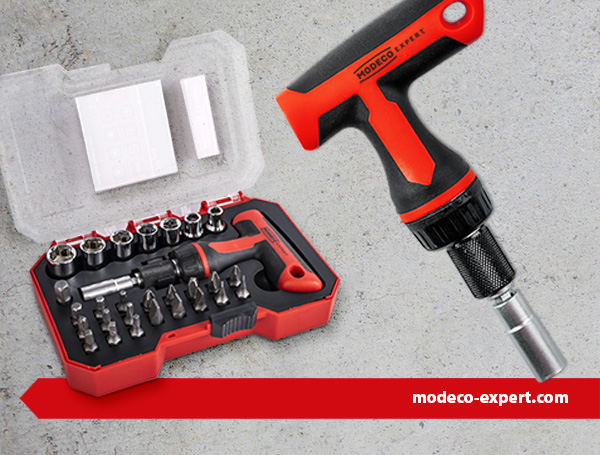 A multi-screwdriver is a popular hand tool not only for fitters: in fact, every DIY enthusiast should have one in their toolbox.
We are perfectly aware of this at MODECO EXPERT, which is why we introduced a universal "T" type multi-screwdriver with ratchet and replaceable bits and sockets.
What makes it great?
Firstly, the two-component rubberised ergonomic T-handle, ensuring a comfortable and stable grip during work. Secondly, the high-precision ratchet mechanism, ensuring rapidity and convenience. Thirdly, the high-quality chrome-vanadium steel bits and sockets, ensuring exceptionally long service life.
The accessories definitely deserve a mention: the extensive 29-piece bit and socket set makes the screwdriver suitable for a wide range of jobs. The set includes the following elements:
ratchet screwdriver with handle 1/4"
SLOTTED bits: 3.0; 4.0; 5.0; 6.0; 7.0 mm
PH1, PH2, PH3 bits
PZ1, PZ2 bits
TORX bits: T15, T20, T25
HEX bits: 3, 4, 5
square bits: 1, 2, 3
sockets 5, 6, 7, 8, 9, 10, 11 mm
The entire set is supplied in a handy plastic box, making it possible to keep the elements in order, as well as to store the multi-screwdriver easily and take it to various job sites.
Product page: "T" type  multi-screwdriver